Honored to cover this feature story with Sadaf Syed for Turkey's Daily Sabah.  We visited Fatima in Lombard, IL and met her beautiful girls.  We brought our own daughters along to break the ice.  I am so amazed at the resilience displayed and her heart of gold.
******
YASMINA BLACKBURN
ILLINOIS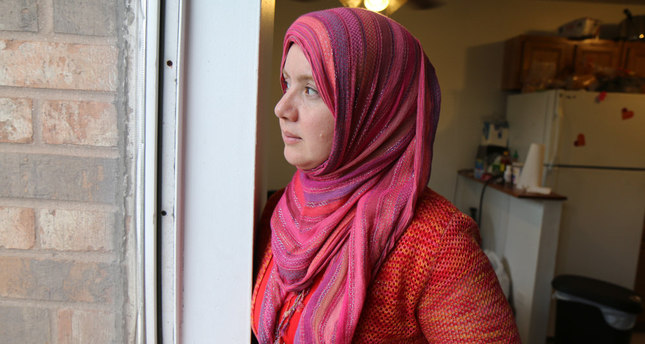 Photos by Sadaf Syed
With her three daughters Noor, Bushra and Sara, Syrian mother Fatima Charabati is just one of many victims of the Syrian war who lost some family members. She has been lucky enough to find asylum in the U.S., but what she, as an abandoned woman torn between a war and her children's future, has endured so far is exemplary
Fatima Charabati welcomed us with a smile into her humble apartment in Lombard, Illinois, an ethnically diverse suburb just over 32 kilometers west of Chicago. Her three daughters Noor, 7, Bushra, 10, and Sara, 12, just arrived home from school and were a bit wary of us visitors.
It is not possible for her to return safely to Syria, where she saw "horror" and her uncle has not been heard from since he was kidnapped by the DAESH terrorist group two years ago. She showed us a picture on her cellphone of her niece, a college student injured two days earlier in Aleppo where 18 people were killed in airstrikes. "Shrapnel," she explained matter-of-factly, as she opened the window to cool off the apartment.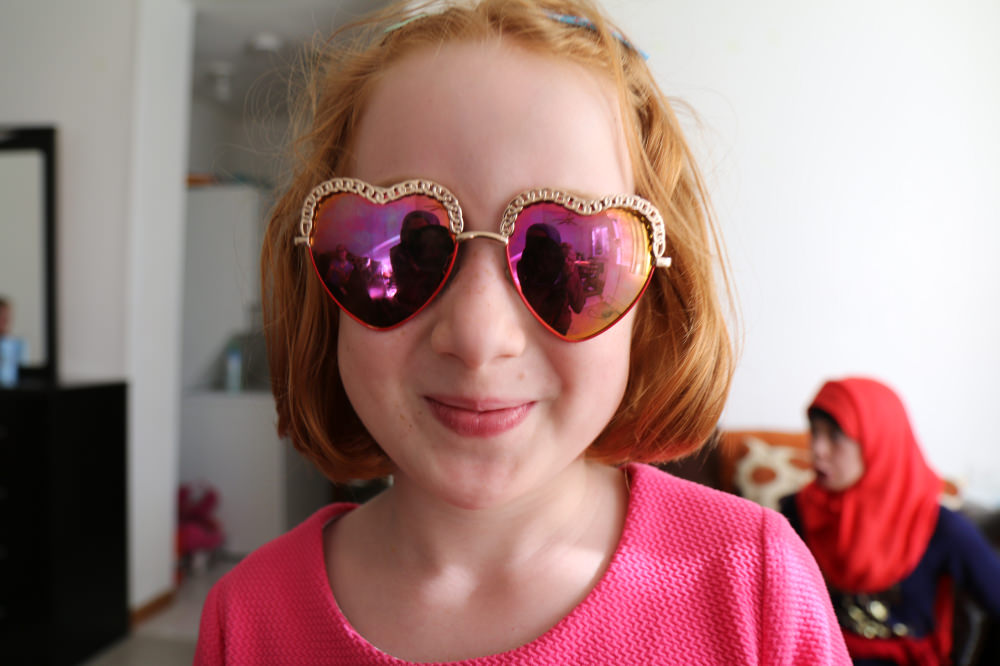 Noor as she gets ready to bike outside the apartment complex.
She talked about grappling with the death of her father a year ago and missing her mother. "She is 78. She is too old to come here. She wants to stay in Syria." She worries constantly about the family she was forced to leave back home, saying she had no choice but to do what she had to do for her children's safety.
According to World Relief, an organization that partners with local churches to help thousands of refugees resettle in the United States, nearly half of Syria's population is thought to be displaced or dead. Four million Syrians have now taken refuge in neighboring countries like Turkey, Jordan, Iraq and Lebanon. Although the United States has provided the most humanitarian aid to date, $4 billion, it has pledged to take in only 10,000 refugees, a fraction of Syrian's refugee population. Thirty-one U.S. state governors have openly stated that Syrian refugees are not welcome in their states – due, many feel, to rampant Islamophobia and fear-mongering about the threat of terrorism, exacerbated by the U.S. presidential election and right-wing rhetoric.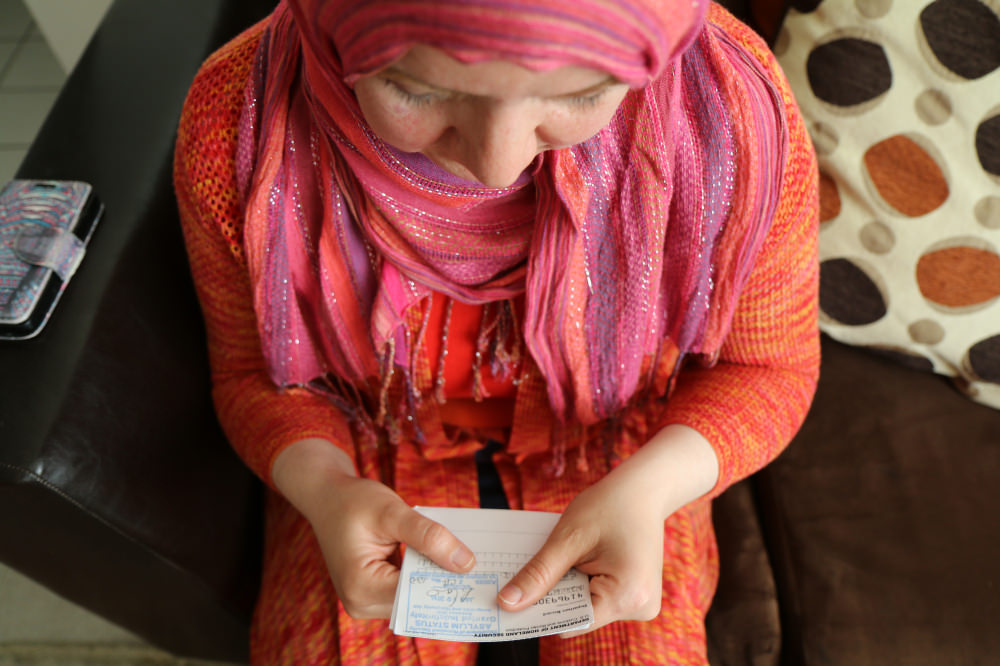 Charabati and her husband had been living in Saudi Arabia where their daughters learned English while enrolled in an international school.
"I would get very sick during my pregnancies. He didn't want to deal with me; he would send me home to Syria so my mother could take care of me," she explained.
The plan was to take a trip to the United States on visitor visas to see her stepsons, children from her husband's previous marriage. At the airport, she and one of their daughters were not allowed to leave when their passports were shown to be soon expiring. Her husband left without them, abandoning them at the airport leaving his wife to fend for herself and her children.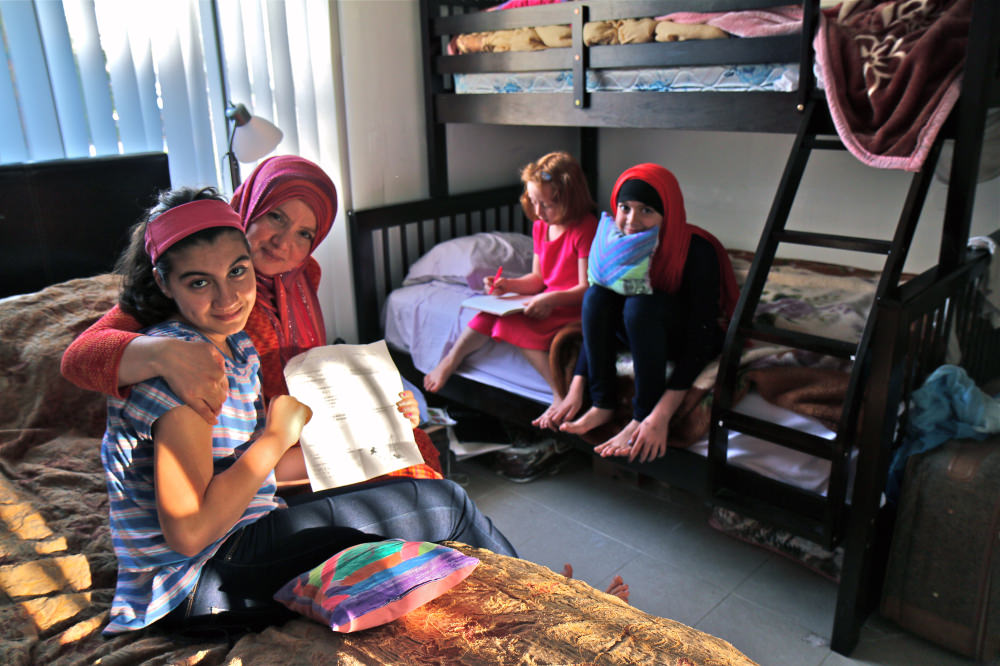 Charabatis settled in the Chicago area and received help from a local Chicago mosque community at first. Despite their struggles, Charabati is proud of her daughter Sara's (L) grades at school.
She eventually made it to America with her children and, ultimately, she and her husband divorced. She ended up in Comer, Georgia, getting help from a Christian service community called Jubilee Partners, whose primary ministry offers hospitality to refugees from around the world who have newly arrived in the United States. Charabati and her daughters made friends with refugees from Somalia, Congo and Sudan.
She ended up settling in the Chicago area, receiving help from a local Chicago mosque community until she was granted indefinite asylum by the U.S. government. Asylum status allows for the same rights as refugee status. She is now learning to drive – which was against the law for her in Saudi Arabia – and getting job offers from those in the mosque community. She recently went back to Georgia for a visit with her children where they volunteered for a week at Jubilee Partners.
"We stayed in cabins," her daughter, Sara, explained, finally opening up after questioning us about why we were writing a story and wanted to take photographs. "There is no Wi-Fi and no TV. I helped with childcare for the parents who were in English class. And I worked in the vegetable gardens."
The family also volunteered at the Islamic Foundation in Villa Park, Illinois, folding and boxing up donated blankets and coats for refugees living in Turkey.
"We don't have television," Charabati said. "We don't want it. The kids do art, read and play outside."
Noor was riding her bike outside the open window. Bushra opened her journal to show us her drawings. Scrawled among the sketches were the words "peace" and "love." Sara let me read a school essay she wrote about her dream job of becoming a detective, where she wrote: "Being a detective is like you playing the role of the hero in life."
While we interacted with the children, Charabati set the table and offered us her homemade "kuwaj," an Arab squash dish and flat bread. She mentioned her love of cooking and her dream of catering Arab food, always managing a smile while she talks.
Out the window we saw a woman in a headscarf walking with her husband and child. Charabati pointed to the house across the way: "My friend lives there. She is from Saudi [Arabia]."Replacing turmoil with safety and routine for her children is a goal she has now achieved in America while chaos remains in her home country of Syria where she left her extended family behind. Warm gestures of hospitality and smiles aside, her mind is somewhere else. When asked what her future dreams are, she did not hesitate in her response: "To go back. I want to go back to Syria."
* Yasmina Blackburn is a freelance writer and journalist for the Huffington Post and a regular blogger at yasminareality.com.
* Sadaf Syed is the photo editor and photographer at Al-Jazeera America and the author of "iCOVER: A Day in the Life of a Muslim-American COVERed Girl."
About the Author
About the Author
: I'm a Writer and Muslim Activist. I'm also a Board Member of the #MyJihad Public Education Campaign. Follow my blog at yasminareality.com or follow me on Twitter: @yasmina_reality. I'm also now on Facebook: https://www.facebook.com/YasminaReality Peace!
More from this author
.
Don't Miss the Next Great Post
If you enjoyed this blog post, subscribe below, and you'll receive an automatic email update when we publish new content.